IKEA
IKEA Student of the Year 2019
Competition Notice

About the contest
IKEA is the leading home furnishing company in the world and well established on the Swiss market for more than 40 years. Our vision is to create a better everyday life for the many people.
Our world is changing rapidly and with that, so are our habits, behaviours and the ways in which we interact. This also influences our expectations of and relationships with brands. With the digitalization as the strongest driver of change.
IKEA has a strong identity which is lived mainly thru the distinct store concept (shopping experience including food components, self-service concept, habits like the hot dog and Småland, …). How can a brand continue to build on and further develop its identity and differentiate from the competition in a digital environment?
The Challenge / Strategy
What does the changing world mean for the different target groups? On which target group would you focus to position IKEA in the digital world? What can IKEA do to meet and exceed the expectations of these consumers? How can IKEA stimulate passion for home furnishing among the people living in Switzerland thru digital channels?
Your strategy should include a target group definition and insights and a strategic approach to build IKEA's identity thru online channels to differentiate from competitors.
Please write your strategy on maximum three A4 pages and hand it in until the 1st of April 2019.
The prize
The winner will receive an IKEA voucher to a value of 2,500 CHF as well as time together with an interior designer who gives you insights and support in how to furnish your home in an attractive way.
Requirements for the competition:
Bachelor, Masters student or recent graduate in Business Administration, Social Sciences or Marketing, residing in Switzerland, Germany, Austria, Italy, or France
How to apply for the challenge:
Submit the following documents to our partner for this contest to this link:
Your CV
Your email address
Your strategy written up in a Word, PDF or other common document format file
Next steps in the application process:
The five most inspiring and interesting strategies will be invited to IKEA to present their concept in front of a jury
The winner will be chosen by a jury of IKEA employees based on the above mentioned criteria
The winner will be presented with an award by IKEA at the Universum Awards in Switzerland
Apply here! We look forward to your submission!
Don't forget: Encourage your talented friends to also participate in this contest!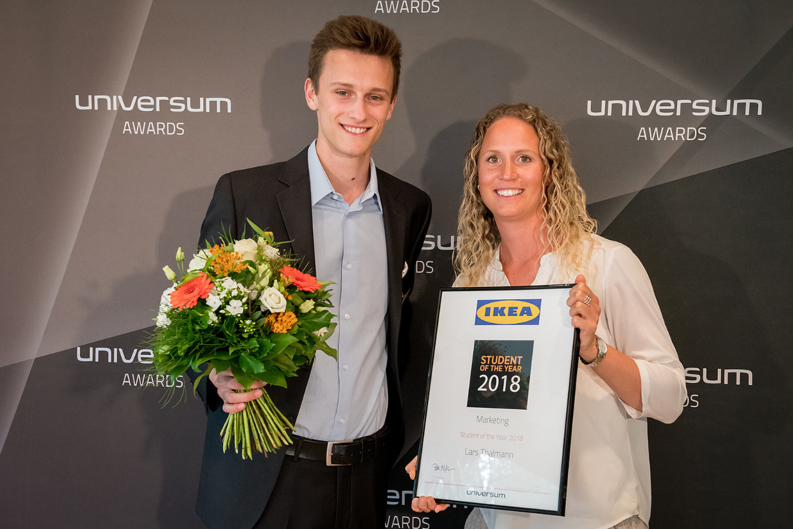 Outcomes, ideas or other IP derived from your concept may be used by IKEA without restriction.
Any person not subject to the basic requirements is not eligible to participate in this competition.
This competition is done in accordance with Universum's General Terms & Conditions for Competitions. 
Relevant time limits: The application timeline for the competition will start on the 1st of February 2019 and will close on the 1st of April 2019.
The winner of this competition will be published on this website by the 31st of May 2019.
The same terms apply to all participants in the competition. IKEA's assessment of the contributions will be impartial, and the competition will be conducted according to the rules that Universum hereby informed about and included in the Universum General Terms & Conditions for Competitions.